When I am feeling well, I readily claim my illness. I own my bipolar disorder because I know it has shaped me into the person I am today – strong, considerate, and extremely empathetic. However, when I am feeling ill and the depression leaves me to suffer my defeat alone, anxious, and afraid, I suddenly become ashamed of my illness – embarrassed to be sick in a way that too many people misinterpret as a choice.
It is not a choice to feel like a total fuck-up. It is not a choice to tremble at the thought of leaving the home. It is not a choice to become irrationally and excessively irate.

It is not a choice to erupt into a waterfall of tears at the thought of truly exposing myself and seeking the help I desperately need. In my mind, to accept help, is to acknowledge and concede to the belief that I am burdensome.
It's a sad irony that the periods in my life when I most need help are also those points when I am most reluctant to seek support. I shut down and seal out those individuals that are willing to help. I don't grant them the opportunity to love me the way I deserve to be loved. Phone calls go unanswered and e-mails remain without reply. I don't even entertain the questions of "Do you need anything?" or "Is there anything I can do to help?" The reply is an immediate and resolute negative, but I don't ever mean what I'm saying. I do need help.
Right now, there's a two week old e-mail message from my friend Angie asking if I need anything and letting me know that she loves me and is there for me always --- through thick and thin. I know she means it when she says this. It's not just some kind of greeting card warm offer that she hopes I never take her up on. She would be there, and she indeed has been there in the past. However, I have not replied to her message, and probably won't. It's stupid and stubborn, but it's true. It's this same damn shame and stubbornness that has left my friend Kim still seeking an answer the week old question of "What can I do to help?"
I don't know. I don't know. I don't know what I need, and that's why I can't answer you. If I knew what I needed, I wouldn't still be feeling like this.
I give my mother-in-law the generic answer of "prayer" when she presses about how she can be of comfort or service. I do indeed need prayer, but I also need understanding and anti-depressant medication without so many uncertainties. I need drug companies that care about creating cures – rather than increasing consumerism. I need to find a blend of medication that works so I can stop being a fucking pharmaceutical guinea pig.
Right now, there's also a message on the answering machine from my pastor – stating that he intends to pray for our family that I get through this terrible depression. He also asked what our family needs – be it coming to the home for a blessing or congregation members to stop by with casseroles, easing some of the everyday responsibilities while battling this beast of an illness. His final words on that message were, "just let us know what you need."
I wish it were so easy to give me all I need, because what I really need is a better mental health care system in my county and this country. I need a mental health care system that will accept me and provide me needed care as I am – feeling broken, but not bleeding. "Your insurance won't cover your stay if you're not cutting yourself or seriously contemplating suicide," were the exact words my psychiatrist said upon discussing hospitalization today. I had visions of running for razor blades, slicing my wrists, and returning to her office with blood dripping off my fingertips and unto her beige, bland carpet: "Can I get the care I need now? Will someone, anyone, give a shit now?"
People do care, though -- friends, family, co-workers, and my church community. And what I really need is to learn to seek the help of these individuals who care because they love me and are deeply, genuinely concerned about my well-being. I need to answer phone calls and admit to my deep pain. I need to let go of pride and provide a reply when a friend or family member asks what they can do to help. I need to seek support and welcome warmth. I simply need to accept their love and eat their casserole.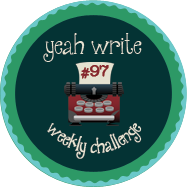 <a href="
http://yeahwrite.me/challenge-97/"><img
src="
http://yeahwrite.me/wp-content/uploads/2012/12/challenge97.png"></a
>