I groggily arose from the bed, and rubbed the tired edges of my eyes, having crusted over with cold symptoms.

As my eyes finally opened wide, I glanced out the bedroom window to see that thick layers of snow had accumulated, while I slept restlessly, upon the land and the tree branches.

The snow rested heavily upon the limbs of pine trees, weighing the branches lowly down, nearing the ground.

With this sight, I felt as though the weight of this heavy snow was weighing down upon my own body, crushing my heart, making me feel stuck and immobilized.
I began to hyperventilate.

My mind began to race.

I don't want to go out there. I can't go out in that weather.

It could happen again.

It can't happen to my children like it did to me.

I won't go out there.

It's today, the exact day. These racing thoughts flooded upon me; I was drowning in waves of anxiety and fear.

Flashbacks that had formerly been erased from my mind came back to me.

I saw the vehicle come crashing horizontally into me on this day, February 11

th

, over a decade ago.

Over a decade ago, but the event lingers with me in diagnosed Post Traumatic Stress Disorder.

I tamped my hands over my ears believing I could hear the loud, crashing, grinding sound of metal automobile exteriors slamming rapidly into each other.

I could hear the sirens this morning, even though they existed only in a memory over a decade away.

I could hear the calming voice of the police officers explaining how I would be removed from my vehicle with the jaws of life, I not fully understanding their gentle intonations as I could only hear my own violent screaming and sobbing, staring forward at a spider webbed windshield, frozen and disoriented in that moment. These violent memories engulfed me.
1988 Buick Electra after the accident - I truly believe this car saved my life
I managed to slow my breathing, call my husband to explain my fears, and then go to the medicine cabinet to find and consume my clonazepam – an anti-anxiety medication.

Yet, even as I write this, my legs are restless, my mind restless, my memory haunting and my mind bound up in irrational fears.

I was alone then, but I would have my children with me if I were to leave today.

No. Not on this day – not February 11

th

.

I can't bring harm to them.

The seventeen year old boy in the passenger seat who was declared dead upon impact.

The seventeen year old boy in the driver seat in a coma for four months.

No, no, no.

My children will not meet such a fate, so I must stay home.

I must.
But, fuck, I don't want to miss any more work.

What do I call and say?

I'm sorry I can't come to work today, but I'm fucking crazy and I'm terrified that if I leave I will kill my own children in an automobile accident.

The weather is making me anxious, and I can't form cohesive thoughts.

I'm not okay, okay? It's embarrassing, but this is my reality.
I hung up the phone with my husband, who was on his way home from work to make sure that I survived the day and that the children would have one competent parent home with them.

I felt foolish and embarrassed and why didn't I just suck it up and straighten my shit out, get to work, and stop letting nightmares of past events corrupt my current life.
Another view of the Buick
Shortly after I hung up with my spouse, my mother called.

"Are you going to work today, Angela?" she asked.

I replied that I wasn't, and, with great shame and self-judgment, I tried to explain the flashbacks and the terror– how I felt sick to my stomach and frozen in fear.

I thought she would judge me too, and tell me to get over it already, get the kids ready for day care, and get in the damn car so I don't put strain on my employer, having to find a substitute with late notice.
She said none of this.

Rather she said, "I know what this day is, Angela.

I know that was a long time ago, but I know it still hurts you.

If the roads were clear, I would tell you to be brave and move forward.

But, Angela, I just went into town and the roads are awful.

I don't want you to go to work today.

Let your employer deal with it however they need to.

You need to protect yourself and your children.

Your PTSD is real.

Did you take some of your clonazepam?

And will Sam be home?

Okay. Okay.

You'll be okay.

Just relax and give those children all your love, knowing they are safe at home.

I want you and them safe at home.

It will be okay."
It's hard to believe it's going to be okay now as I sit in tears watching more snow fall upon the roads.

It's hard to believe it's going to be okay given the guilt I feel over missing work, and also knowing my husband is losing wages by coming home to take care of me and the children.

It's hard to believe it will be okay when I feel like such a god-damn burden to those that love me.

But the most important part of that statement is that I have so many people who love me.

My spouse, my children, my parents, my in-laws, they all love me and they all know that my illness is real --- this manic-depression, this seasonal affective disorder, this anxiety, this post-traumatic stress disorder.
The best medicine for all of these, while I still rely on mood stabilizers and anti-depressants, is the love and support of my family.

I am choosing to believe my mother today.

I am missing work, and the memories that accompany this snow fall weigh heavily upon my heart, but it will be okay.

It will be okay.

I am loved.

I won't suffer any loss today in the warmth of my home.

Maybe it's irrational to need to stay here, to be brought to hyperventilation by the thought of traveling those roads, but the safety of my home and the support of my family is what I need today.

It's my medicine.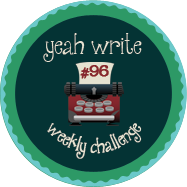 a href="http://yeahwrite.me/challenge-96/"><img src="http://yeahwrite.me/wp-content/uploads/2012/12/challenge95.png"></a>