Author's Precaution: This post discusses sensitive material, and may contain triggers. The author respects your choice to avoid this post, but would encourage you to read and share as a means of ending the stigma and misunderstanding surrounding mental illness. Thanks!
You never really understand a person until you consider things from his point of view;
until you climb inside of his skin and walk around in it."
– Atticus Finch, Harper Lee's To Kill a Mockingbird
--------------------------
Sometimes my husband has to call my place of employment to inform them that I am too ill to attend work that day.

This makes me feel like shit – total and complete shit.

Once I'm feeling better, I am so ashamed by this actuality.

I feel like a tiny, helpless toddler incapable of forming my thoughts into proper words, becoming frustrated and throwing temper tantrums – crying uncontrollably, kicking and screaming.

Does he also need to change my diaper and spoon-feed me soft foods?

Why can't I be a properly functioning, professional adult and pick up the damn phone to make that important call my own self?
The answer is because, on those days, I am not fully myself.

I become a victim to my illness; my manic depression has total and complete control over me.

Her cold, chilling fingers wrap themselves firmly around me while I sleep fitfully.

She hovers over me, crushing my will as she weighs heavily down upon my chest preventing me from any action.

She whispers damaging words, gently caressing my lobe while convincing me that I am worthless, ugly, awful, incompetent, undesirable, worthless -- fucking worthless.

On these mornings, I often awake with a gasp, as though I have just been revived from potential drowning.

Despite this literal gasp of life, emotionally I still feel as though I am drowning – struggling to stay afloat under deep, dark waves of depression.
I physically become far too similar to that dependent infant child I later shamelessly connect to.

I do cry uncontrollably – unable to express my needs like a hungry, ravished child.

I don't know what I need really – even when I am well.

I have my medications, and I have the love and support of my family.

I have an understanding of my illness as though she were an old familiar friend.

Sometimes, there seems to be nothing – absolutely nothing – to ease this pain and all I can do is lay in bed all day, trying with all my might to push away these suicidal thoughts and feelings of utter worthlessness.

Suicide would be so easy, but also so undeniably selfish.

I love my family so much that it is impossible to express, and I don't want to leave them.

I don't want to leave my joy, but sometimes my illness tries to convince me otherwise.

She's a very strong, adamant woman and I have to be stronger.

I have to train my mind and fight just a little bit harder than her.

I have no choice; weakness is not an option if I hope to win.

And I must win because winning means living. If I lose, there's going to either be blood splattered on the wall from a bullet hole, or blood dripping down my wrists from a razor blade.
I imagine that kind of shit is hard to hear.

It's truly challenging to type.

But neither typing this nor reading this are as challenging as living with this illness, and being so often surrounded by misunderstanding.

Sometimes, I want to break dishes, throw the television, punch a window, whatever, when I am told to look on the bright side or buck up.

I want to yell, "I don't have a bad attitude, you dumb, ignorant bitch! I have an illness.

Do you think I want this?

Do you really think I want this? Fuck you. Try a little empathy!"
I don't yell at those who would judge though, because I'm too afraid to face others on some days. Occasionally, all but my family frightens me.

Insane thoughts of what might happen if I dare leave the house, or even move from my mattress, silence all rationality.

My body curls itself up into the fetal position without this being a conscious decision.

Fear and self-loathing rule.

I become an amnesiac to the amazing woman I really, truly am.
Sometimes I lie in bed and shake and I can't stop the shaking.

I hyperventilate and my fists curl up into tight little balls nearly impossible to break open.

I stumble upon my words and start to stutter, so my spouse needs to make the necessary phone calls.

And I feel like shit, even more so because I do blame myself.

Why am I not better than her? Bigger? Braver? Louder? Why can't I escape her grip and quiet her voice?

I hate her.

I hate my mistress manic depression.
But, sometimes, I love her.

I want to hug her and thank her for making me an extraordinary woman. For making me a strong woman.

For making me caring, considerate, and compassionate.

I want to thank her for this incredible gift of empathy that I possess.
I want to wrap up that gift in shiny ribbons and bows – make it glitter and shine just like I do when I'm fully well.

I would give that gift to every person I have ever met – and it would be true they would need to know pain.

Ultimately, however, at the bottom of that gift, under the torn tissue paper, is understanding.

Sometimes I wish these shoes were on your feet.

I would invite you to climb into my skin.

You might just choose your words more carefully.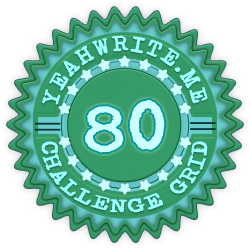 <a href="http://yeahwrite.me/80-open"><img src="http://yeahwrite.me/wp-content/uploads/2012/10/challenge80.png"></a>