As I sat down at my laptop this morning, Google kindly asked me if I would like to remember the moments of 2013.

My immediate internal response was a resounding NO.

Why would I? While 2013 was a year of calm and contentment in my personal life, the year in pop culture left much to be desired.
Last week, I began on the venture of creating an annual "best of" list.

Given that this little blog has survived over a year, I figured it was time to start some tradition around this place.

In 2012, I provided readers with an end of the year round-up of all things awesome, including Gillian Flynn's Gone Girl and Amy Poehler's brilliant comedics.

In 2013, however, Parks and Recreation went and jumped the shark too and I read the worst damn book ever published – ever (here's a clue …

Holy Crap - it was awful).

Thus, as I set about creating my own year in review, I severely struggled to find any moment in the media worthy of recognition.

Due to my toils, there are two results: 1) I failed to publish this year in review during 2013. Whatever. Lay off. 2) This list offers a twist and provides quite different categories than the traditional "best of" I had hoped to create. Enjoy!
Most Misogynistic Music Video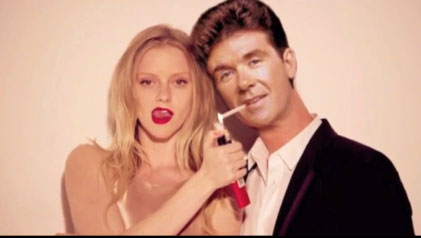 I do believe the winner is clear here, so all hail Robin Thicke for his thoroughly obscene video to the admittedly catchy hot single of the summer, "Blurred Lines." I know the video is intended to get your heart pulsing a bit as you imagine sexy, sultry scenes of desire in your head.

However, Robin looks far too much like his father Alan and, hence, even with beautiful naked women shimmying about him, I keep picturing Dr. Seaver and the children of Growing Pains.

I miss cute, wholesome little Kirk Cameron.
Most Obnoxious Viral Video
If you did the Harlem Shake this year or tried Prancercise, you know that web videos often created more buzz than the stars of major cinema.

Forget Iron Man; there's Bat Dad.

2013 was also the year when we had one of the biggest mysteries of the world answered: What does the fox say?

Yes, Ylvis takes home the top honor as the most obnoxious viral video of 2013.

You couldn't get away from this video, and it produced quite the repugnant accompanying ear-worm as well.

In addition, it spawned a whole host of parodies, tee shirts, and even a children's book.

No book should ever have a cover that reads "based on the popular you tube video." Ugh.
Most OMG Miley Cyrus Moment
No matter what kind of stunt Miley pulls this year, I promise this will be my only mention of her in 2014.

Can we all resolve the same?

We need to stop giving this misguided little girl so much attention for her shenanigans, but having said that, all eyes were on Miley in 2013.

Miley had her tongue sticking out and her ass hanging out all over the place, like at the Amsterdam awards show where she also lit a joint on stage.

Of course, though, nothing tops her pornographic performance at the MTV VMAs.

It was during this performance that she also licked the ass of a giant teddy bear and used a foam finger as a dildo.

Keep it classy, Miley, keep it classy.
Biggest Jack-Ass Joke of a Politician
2013 certainly left us no shortage of total jack-ass, sleazy, corrupt, partisan games playing, dumb-as-a-box-of-rocks politicians.

Where do I begin? Perhaps with Anthony Weiner and his "package," seemingly oblivious to the fact that it's unfavorable to send dick pics to strangers when you're in the public eye, or, you know, ever.

We were also thoroughly impressed with the brilliant minds of our political leaders when Ted Cruz decided to entertain us with Dr. Seuss during his September "filibuster."

Marco Rubio got thirsty, Obama got his web site all kinds of wrong, and don't even get me started on that cry-baby John Boehner.

But, none of these men could possibly compete with the biggest jack-ass politician of them all: Rob Ford.

You totally earned this title, buddy.

I don't even know where to begin with this crack-smoking, belligerent mess, so I kindly direct you to this awesome compilation of Rob Ford's greatest moments.

Don't worry about him, folks, he's "got plenty to eat at home." Eeewwwww.
Biggest Mindless Time Suck
Candy Crush.

Need I say more?

Yes, yes, I must indeed say more.

I must say: "Fuck you, Candy Crush. Fuck you.

I could have been so productive in 2013 were it not for your addictive nature."

I sure as shit hope I accomplish something greater than beating level 378 in only 12 moves in 2014. I am a pathetic mess, but apparently I'm not alone as Candy Crush earns $928,408 in estimated daily revenue and gets 98,387 daily installs. We're a sad lot, 'Murica. We all need to get our shit together in 2014.
And one last thing … fuck you too, Justin Timberlake, for failing to help me reach
my 2013 resolutions
. You didn't even follow me back on twitter. Whatev. I'm so over you.