At age twenty-two, for the first time, there was another individual I cared enough about to invite him home for the holidays.

In fact, I cared for and loved him so much that I had visions of the two of us beginning our family together, starting our own holiday traditions, and growing old together. Because I was in love, I felt the holiday spirit that year in a way I had not done since I was a young child who still believed in Santa Claus and miracles.

His love felt like a miracle to me, and I enthusiastically looked forward to sharing the magic of Christmas with this cherished man.
I invited him to spend Christmas with my family, and he declined with seemingly sincere regret.

He informed me he had to work on Christmas day and planned on spending the holidays alone in his apartment.

He said he understood if I still wanted to be with my family.
I was deeply saddened to hear such news, but assured him he would not be alone on the holidays.

I had purchased so many gifts that I eagerly looked forward to presenting to him.

I had bought him several new shirts and two handsome sweaters.

I also gave him a framed photo of us, a DVD, a massager, and the gift I was most excited about – a Chinese tea pot I spent nearly two hundred dollars on.
I entered his apartment bearing all these gifts, and a great big smile.

We sat near his tiny three foot Christmas tree. He opened up my gifts, and gave me hugs, kisses, and expressions of gratitude.

I beamed at the joy I had brought him.

Then I sat up on my knees and asked, "Okay.

What did you get for me?" as I continued smiling naively.
"Uhm, well …" he replied, "I was working today.

I didn't have time to buy you anything."
I tried not to be angry because his love should have been enough of a gift, and Christmas isn't really about getting presents after all.

But, I was extremely disappointed given the thought and financial expense I had placed into his gifts.

I was silent for some time, but then asked, "What do you mean? Nothing? Really? You got me nothing? You're kidding, right?"
He wasn't kidding.

He apologized, but said he had been too busy working long overtime hours.

"But," I began, "it's not like you had just the past few days to shop.

It's not like Christmas snuck up on you and surprised you.

It's the same damn day every year!"

my voice began rising in anger as I felt I had been fooled.
People say you get what you give, but I have always given way more than I have ever gotten in return, and this Christmas was apparently no exception.

I believed it was going to be the best holiday ever, and my beliefs were knocked to the ground when there was nothing shiny and sparkly for me to unwrap.
I started to cry.

I know this confession makes me sound like a spoiled, selfish, ungrateful bitch, but I started to cry.

Tears rolled down my cheeks and my smile became a deep, disappointed frown.

He said, "I'm sorry. I didn't know you would react like this.

I think there's a Walgreen's open down the street.

I'll go pick up something quick, okay?" I nodded my head in affirmation while I continued to sob.
He returned with a small plastic bag in his hand, went to his room to wrap the contents, and returned with a card and one tiny, hastily wrapped present.

I opened the card and gift.

It was a framed photo of us, but I wasn't smiling now the way I was in that image.

I recognized that frame.

That same frame had been in his bedroom all this time, but it formerly held a picture of his family. I was certain beyond doubt it was the very same frame. He only bought a two dollar card.
"You didn't just buy this," I said.

"This frame was in your room."
He tried explaining that it was indeed a new frame, and he liked that other similar frame so much he just bought a like one.

However, when I looked for it, the former frame was no longer atop his dresser. He somehow managed to justify its magical disappearance.

He probably started kissing me, and distracting from his dishonesty.
Although his love first felt like a miracle that Christmas season, I soon learned it was all a lie.

There would be no new traditions because the truth, like that recycled frame, was extremely disappointing and brought me to tears.

He never worked that Christmas because he didn't actually have a job.

The life I thought we shared was one of deep deceit, a life he wrapped up in shiny ribbons and bows to hide the ugly truth. I only discovered such disguised truths months later, after I believed I had forgiven him for the frame.
He was a thief – a fucking thief.

When he said he was working, he was out stealing.

I found a number of citations in his sock drawer and confronted him. Every day, he had admitted – every god-damn day -- he stole.

Most items he pawned off, but others he kept. I learned that he was once caught stealing hypoallergenic sheets.

He stole fucking hypoallergenic sheets for himself.

What the fuck?

Really?
As I sit here now and reflect on that Christmas when I sacrificed my funds, my time with family, and my trust for him, I am angry without any guilt.

I wasn't the selfish one; it was him.

He stole fucking sheets for himself and gave me a shitty used frame. For fuck's sake! If he was stealing shit every god-damn day, I should have gotten the mother-load of illegally obtained items for Christmas that year!

'Twas the season for lying and thievery.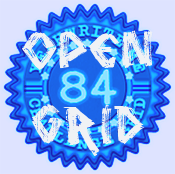 <a href="
http://yeahwrite.me/84-open/"><img
src="
http://yeahwrite.me/wp-content/uploads/2012/11/opengrid84.png"></a
>