We sat in our tiny plastic seats writing our letters to Santa Claus with large pencils and excited grins.

I asked for a Lite Brite for myself, Transformers for my brother, and a Glo Worm for my little sister.

Would Santa get my letter in time?

I hoped our kindergarten teacher would mail them out that very day after we lay down for our naps on rubber maps while sipping our chocolate milk from straws.
Then the wonderful news came that made all of our young hearts beat more rapidly with abundant anticipation.

Not only were our letters being stamped and sent off to the North Pole that very afternoon as my little heart had hoped, but Santa himself was coming to our classroom tomorrow.

Following the holiday program for our parents, Santa and one of his elves would be right here – inside these concrete walls where we learned our alphabet and basic mathematics.
Of course Santa was real.

I knew he was real.

He had to be.

How else could one possibly explain the piles of presents that magically appeared under the tree each Christmas morning?

Who else could have conceivably consumed the plate of cookies and glass of milk that had been left out for this wonder of a man? Who else filled our stockings to the brim with candy canes, chocolates, and oranges?

Santa. It was Santa for sure, and I was meeting him.

I boasted about this upcoming encounter to my mother, and was far too excited to notice the look of concern that crossed her face.
Like thoughts of sugar plums described in traditional holiday tales, my thoughts were consumed with Santa until the moment finally came.

Santa sat in front of the decorative fireplace my teacher had assembled in the classroom.

He was dressed all in red velvet, with white fur trimming the edges of his coat and pants.

His beard was white as snow, and he wore a red cap.

He had a twinkle in his eye as he smiled down at me, looking precisely how I had envisioned him from the tales I read and stories I had been told.
He reached down with white gloves and placed me upon his lap.

I began to tell Santa the wishes of myself and my younger siblings.

As I spoke to him, I breathed in his very essence, expecting him to smell of candy canes and newly fallen snow.

His aroma, however, was not new or magical as I had imagined.

This jolly old man felt strangely familiar, but I couldn't quite place the scent.

When he spoke back, another recognizable trait was heard.

That tone was one I had heard before, but again could not precisely identify.

His nose, his eyes, his smile; I felt already acquainted with all of these features. I looked back to my mom, who looked down at the ground.

I finished my requests, but my mind was rapidly attempting to solve a puzzle.

This man – this Santa – was no longer magic, but was now a mystery to me.
On Christmas day, we went to my grandparent's house.

I looked at the ornaments hanging on the Christmas tree.

Most of them were personalized with a message to my Grandpa and a different year on them.

"From the Kindergarten Class – 1980," "From the Kindergarten Class – 1981," and so on.

Why did the kindergartners, which I now was, like my Grandpa so much?

I didn't understand.

Then Grandpa handed me a gift that was under the tree.

I smiled at him, and when he smiled back, the mystery started to unravel.

His watch! He's wearing Santa's watch!

Why is Grandpa wearing Santa's watch?

I saw it on Mr. Claus last week.

I know it's the very same one.
I dropped the gift to the floor, and ran to my mother's arms.

"Mom! Grandpa stole Santa's watch! He stole it! I saw it!"

My mother shook her head and explained to me that Grandpa had not committed an act of thievery.

"But …. But,"

I began, and then I understood.

Grandpa didn't steal Santa's watch. Grandpa was Santa.

But, he doesn't live at the North Pole.

And where are his reindeer?

And … no, no, no! I escaped my mother's embrace and ran under the kitchen table, where I stayed and cried for forty minutes.

Nothing was ever the same again. Santa wasn't real. The magic was over for me.
I thought the magic was over in that moment, but I was wrong.

The magic is real and it lies in our own hearts, and in the smiles of our own children.

It lies in the love of family and the kindness of strangers. Although it's been nearly thirty years since I learned the truth about Santa, Christmas remains a magical holiday.

More importantly, I never once stopped believing in the man this holiday was truly meant to celebrate.

Jesus is the real reason for this season, and his gift of salvation is far better than any present wrapped up with ribbons and bows.
I'm spending the holidays over at Yeah Write. You should too. Merry Christmas to all, and to all a good read.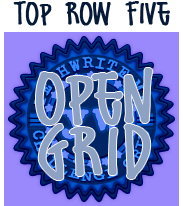 Second Place Crowd Favorite