I have been divorced for ten years.

It has been one entire decade since I walked away from an emotionally and physically abusive relationship.

And yet, as my current husband recently pulled down the Rubbermaid storage boxes from their garage shelves, many of the holiday decorations contained within are still those purchased while in that first marriage.

I unpacked snowman decorations that had been given as gifts by my former spouse, and opened a container that held the blue and silver glass bulbs that we hung on our Christmas tree.
I can't precisely tell you why I never replaced them.

I suppose I just considered these decorations as mere objects, and never really thought of them as symbols of a failed relationship.

Did looking at a snowman candle holder from Kohl's bring tears to my eyes as I painfully recalled the night my former husband attempted to choke me?

No, it did not; I just thought it looked appropriately festive sitting on the fireplace mantle.

Replacing the decorations and the ornaments would be expensive, and I deemed this act unnecessary.
This year, however, a different feeling generated in me when I looked at those blue and silver bulbs.

I simply could not bear to hang them upon my tree for one more Christmas. I wasn't disturbed by memories; I didn't regret my divorce.

I simply did not wish to hang those ornaments up one more year as I had grown tired of them.

Beyond that, I now have a toddler who has the natural curiosity of a kitten, getting into things she doesn't belong in. I could imagine her pawing and batting at them with her hands like the furry, little paws of the cats of my childhood, breaking bulbs and making my mom furious every single holiday season.
Those silver and blue bulbs of a marriage past were as fragile as our relationship – easily broken.

I did not want my daughter to injure herself on the sharp, fragmented bits of glass in the same manner I had been emotionally injured when my reality was shattered through the revelation of my spouse's unceasing dishonesty.

I thought then of the false mystique of splintered glass along the edges of roadways.

When those bits of broken glass are illuminated by a vehicle's headlights, they sparkle and shine like diamonds and gold.

It's all an illusion, though, just as my happy, blissful marriage was.
For the safety of my children, who might naively be fascinated with the shine of those silver, fragile bulbs, I could not in good conscience place them upon the bows of the already erect tree.

The lights had been strung, and my daughter awed at the sight.

However, we would not finish decorating the tree that night.

I took that plastic container full of easily broken ornaments and put it back out in the garage, stashed away behind other storage containers and a large cooler.
The very next evening I went to the store and bought new ornaments – shatter proof ornaments.

On the most basic level, these ornaments are a wise decision of a protective mother who rightly predicted that her daughter would knock ornaments off the tree.

When my daughter did this, though, after all the new bulbs hung beautifully from the limbs of the pine, the bulb remained unbroken.

It held together, just as I know and believe that this family will hold together through all difficult times.

This marriage – this beautiful, blessed family – is shatter-proof too.
I hooked up with the wonderful writers over at Yeah Write. Once again, I am telling you the posts on the challenge grid are well worth reading. Happy Holidays!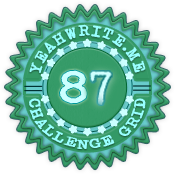 <a href="
http://yeahwrite.me/87-open/"><img
src="
http://yeahwrite.me/wp-content/uploads/2012/12/challenge861.png"></a
>